Congratulations to Mozilla Philippines team for kicking off a successful Firefox OS App Days – Manila last January 26, 2013 at Alphaland Southgate Tower!
The event started with a talk on the Mozilla in the Philippines by Mozilla Representative Jun Barrun Jr. followed by Bob Reyes, also a Mozilla Representative who shared about Firefox & the New Web Challenge. Monique Almario talked about WebFWD while Kevin John Venture on Firefox Marketplace. Then Mathew MacPherson shared on the topic "Apps are Boring! Games are Fun!"
The amazing thing I learned from this event is that you can develop apps for the Firefox OS with your browser alone! Few add-ons and you're ready to go! How cool is that?
After the morning talks, the mini-hackathon followed by the show-and-tell presentations. First to present were Mark Anthony Raymand and Paul Jayme who were instructors at Gordon College, Olonggapo City. They presented 3 apps namely: Qwerty typing Test, My Tools Plus and Grubin's Adventure (developed by students). Noel Anonanas, instructor at Asia Pacific College, also shared their app named Whackakiki. While Mozilla Reps Kevin and Joel, also shared about their app named Tranzilla, an app for guiding commuters. The last presenters were Sony and Mark.
Event freebies by the way were shirts, cute orange 2GB USB Drives, baller IDs, stickers and pens.
Then the after party was at National Sports Grill, Greenbelt where everyone socialized and had a really good time! Our group left the place almost 12 midnight. It was Saturday night after all!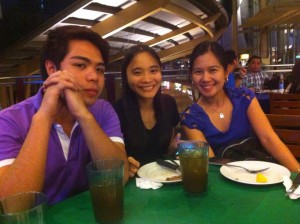 Erwin, Jossie and Ate Kat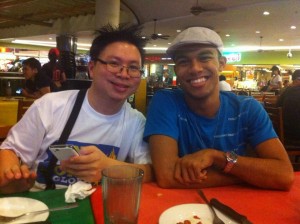 Sir Yappie and David
Franz, me and Lope