I've been existing in this crazy world for 22 years already! With each passing day, life becomes more fun, challenging and interesting! Blessings have been overflowing my whole life. And I couldn't be more thankful!
Super thank you to my big loving nonsense family, who were always beside me as I  grow up to become the person I am now! Thanks for always reminding me to be humble and thankful in every achievement, to be strong in every failure, to be positive and faithful in every difficulty, and lastly, for being my forever inspiration!
To my loyal fans (joke! :P)… I mean, to my quirky and loving best friends who were with me since college, thank you for painting neon colours in my life! Very bright are the days when I'm with you!
To my NMG family, thank you for the opportunity to learn and improve my technical and PM skills while enjoying at it. Secondly, thank you for believing in me all the way in creating value as a mobile developer and more.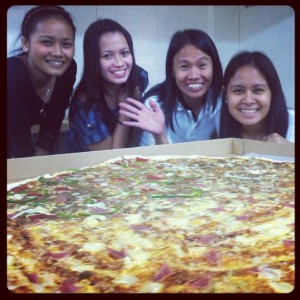 To my DevCon family, thank you for keeping the fire in me burning in serving the community! With you, I continue to live the Atenean value of "Men and women for others". If not for this value, my life has never been this meaningful and fulfilling.
And to everyone who has been part of my awesome life, thank you, thank you, THANK YOU! I can't thank you enough for the memories and lessons you've shared with me!
Haifa! Make a wish! Make a wish! Hmm.. I wish, I wish, with all my heart, to fly with the dragons in the land apart… apart… apart…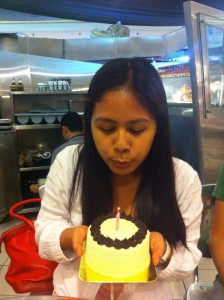 Kidding!! :P That was from one of my favourite childhood cartoon, Dragon Tales.
For real this time, I wish I could make the people around me smile and happy everyday. Happier surroundings, better world to live in! (thumbs up!)
P.S.
I would like to share the birthday greeting that made my day! haha. It's from Paul, my young hyperactive handsome friend from the IT community.