I felt so excited, no, ecstatic, to finally attend a gathering of all girls! I'm from the IT industry so most of the time, the gatherings I attend to are dominated with guys. The event was Belle de Jour Rendezvous: Wellness Work-Up held last February 23, 2013 (Saturday) at Ace Water Spa, Pasig City. So happy I went to the event, I learned so much!
Vania Romoff, Philippine Fashion Week 2013 Designer on "Spring Up Your Wardrobe"
The gorgeous Vania Romoff shared the Spring Fashion Trends. Must remember trends: Black & White, Ruffles, Kimono Robes, Stripes, Short Suits, Tunic over Trousers, Lace Dresses and Peek-A-Boo.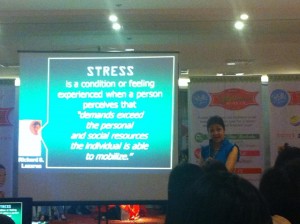 Ducky Villanueva, Professional Counselor & Instructor at John Robert Powers on "Don't Stress it Out!"
When Ms. Ducky asked how many in the room believes they are stressed. Almost half of the bellas raised their hands! Oh my.. At least I'm not one the stressed peeps in the room. :P Ms. Ducky said the key to managing stress is AWARENESS. Thus, she shared about symptoms of stress and how to overcome it. According to her, the most common cause of stress is… *drumroll* MULTI-TASKING! Then she emphasized that the secret to stress-free life is FOCUS. Makes sense! As for my favourite advice she gave, "Don't do anything at the height of any emotion." haha. I must remember that at all times!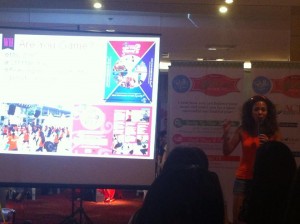 Then lastly, my favourite speaker, Ms. Lara Parpan, Editor-in-Chief of Women's Health Magazine on "A Youthful Fit"

She said if you build more muscles, you burn more fats. And that is only possible with healthy diet and exercise. She also shared tips such as crunches for a flat stomach is false; breathe; eat before and after exercise/workout; and finally, you should only do an exercise that you enjoy.
Then her workout formula: more effort + less time = efficient workout! Examples are circuit training, crossfit and pilates. The circuit training and cross fit I first heard from a gym discussion with Paul and Ronald from SMART back in Cagayan de Oro. The pilates, I first encountered from my fashion blogger crush, Kryz Uy.
Awesome add-ons in the event were the jolly and enthusiastic host which I forgot the name (Jasmine maybe?), new friends, sumptuous snacks, cool game prizes and raffle items! The best add-on for me was I get to meet the lady behind Belle de Jour Power Planners, Ms. Darlyn Ty!
Looking forward to the next Belle de Jour Rendevous!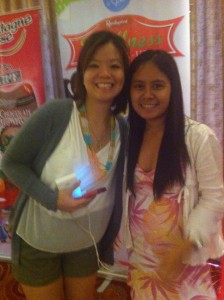 With Darlyn Ty, Lady behind Belle de Jour Power Planners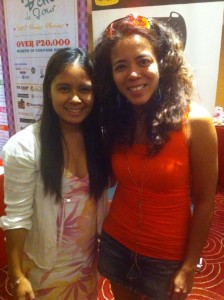 With Lara Parpan. Look at her flat tummy! Hmm.. sooon… :P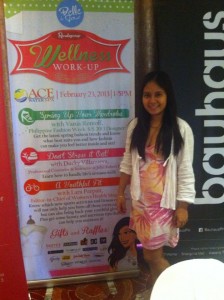 Me!